Next time you're about to get stuck into your fave chocolate treat, consider this.. It takes more than 400 cacao beans and up to four days to make one 450 gram chocolate bar.
Chocolate is the end result of roasting and grinding cacao seeds, which are then turned into blocks, liquids or pasts and can be used in cooking. The earliest uses of chocolate were associated with the Olmec sites from as early as 1500 BCE (the Olmec region was to become Mexico many generations later). The majority of Mesoamerican people made chocolate beverages, including the Maya and Aztec people's.
How is chocolate made?
The seeds of the cacao tree have an intense bitter taste and must be fermented to develop the chocolate flavour. After fermentation, the beans are dried, cleaned, and roasted. The shell is removed to produce cacao nibs, which are then ground to cocoa mass, unadulterated chocolate in rough form. Once the cocoa mass is liquefied by heating, it is called chocolate liquor. The liquor may also be cooled and processed into its two components: cocoa solids and cocoa butter.
Chocolate Fast Facts
Chocolate comes from a fruit tree; it's made from a seed.
Theobroma Cacaois the tree that produces cocoa beans, and it means "food of the gods."
Each cacao tree produces approximately 2,500 beans.
There are an estimated 1.5 million cocoa farms in West Africa.
70 percent of the world's cocoa hails from West Africa.
Cocoa is raised by hand, on small, family-owned farms.
Because cacao trees are so delicate, farmers lose, on average, 30 percent of their crop each year.
Studies have demonstrated that one of the major saturated fats in chocolate does not raise cholesterol like other hard fats–meaning chocolate can be enjoyed in moderation.
Cacao leaves can move from horizontal to vertical by 90 degrees to get sun and to protect younger leaves.
Some cacao trees are more than 200 years old, but most give marketable cocoa beans for only the first 25 years.
The average serving of milk chocolate has about the same amount of caffeine as a cup of decaf coffee.
We love Sunshine Coast chocolatiers
The Sunshine Coast region is a secret hotspot for some of the finest and most creative chocolatier's in the country. We are proud to stock their range in our store and hampers. Here's a little bit about some of our fave stockists.

Blending art & science together with the best Australian produce, Kokopod is a boutique multi-award-winning chocolatier which supplies retailers across Australia and the world.
The Founder of Kokopod Bridget Woolnough was on a student exchange to Germany as a teenager and her host father worked for a worldwide commercial chocolate company. Brigid couldn't believe the stash of chocolate supplies in their kitchen! There were even slices of chocolate purposefully made to fit a slice of bread. It was from this experience the idea was first born to create a chocolatier business of her own someday.
At Kokopod you'll find a unique macadamia collection, a selection just for pairing with cheese, and an exquisite range of chocolate blocks such as 'gold digger honeycomb', raspberry brownie plus as a mouth-watering vegan range. Learn more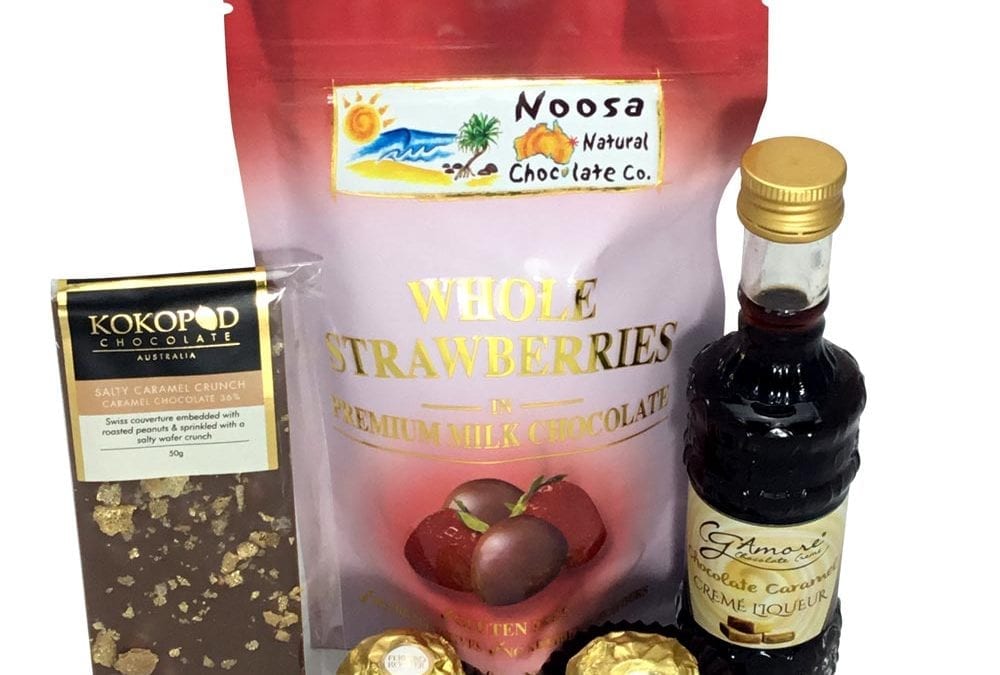 Try Kokopod in our Chocolate After 5 hamper Shop now  
---

Naked Chocolate Co. takes an innovative approach to their velvety creations using the finest Belgian chocolate for a range of chocolate manufacturing. There are no artificial preservatives or flavours in any of their self-professed 'melt in the mouth chocolates'.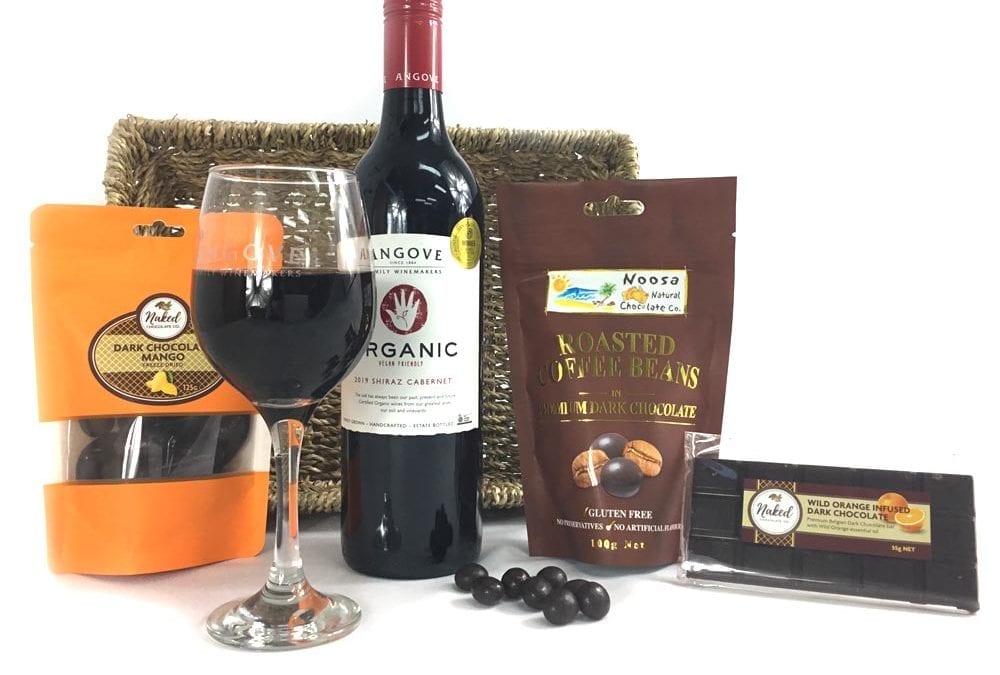 Naked Chocolate Co.'s product range includes chocolate coated products like dark chocolate coated mango and white chocolate raspberries, some delectable and fun chocolate barks, Vegan chocolates such as ginger infused dark chocolate and lime infused dark chocolate and essential oil infused chocolates like wild orange dark chocolate and peppermint infused dark chocolate.
Naked Chocolate Co. can also provide wholesale chocolate packages for School fundraisers, Corporate gifting, Hotels & AirBnb and health food stores and markets. Learn more
Try Naked Chocolate Co's chocolate in our Red Wine and Chocolate hamper. Shop now
---

Noosa Natural Chocolate Company is a family-owned business based in beautiful Noosa and was founded  in 2008 with the vision of providing delicious chocolate-covered snacks that are also naturally good for you.
Noosa Natural Chocolate Company uses only the finest ingredients in all of their Gluten-Free premium chocolate products. Delicious snacks that are filled with real fruit and packed with anti-oxidants then coated in dark, milk or white chocolate. With so many varieties available, you know what that means right? There is something for everyone!  Learn more
ne
Try Noosa Natural Co. chocolate in our Chocolate After Dark Hamper Shop now
When you're next getting stuck into a Netflix binge with a block of chocolate, remember to take your time and savour the flavour. It took a huge amount of processing effort to get it from the cacao tree to your door. Enjoy!
---
MAKE YOUR GIFT MEMORABLE WITH HAMPERS TO GO
Hampers To Go loves supporting the incredible local Sunshine Coast chocolatiers, which attract visitors from all over the globe to the region. The team takes delight in providing stunning, carefully curated gift hampers packed with decadent chocolate treats and great chocolate companions to make every person who's lucky enough to receive one feel pampered. Check out what's available.